The Edinboro Placemaking Project started in "the before times", you know – before the pandemic – and even then we were talking about a slow but eventual migration of folks looking for different, smaller, places to call home. And then, 2020 happened – Covid happened – and the conversation around migration shifted dramatically. As a country, we were suddenly introduced to different ways of thinking about density and the value of elbow room, we learned new ways to do business and get jobs done from our living rooms and kitchens, and we sought out new and different ways to engage in the outdoors. Each of these adaptations, individually and collectively, has changed pre-pandemic projections about population shifts that we once expected to play out over the next 15 years. But the population re-shuffling is happening now and will continue to happen over the next few years.
This shift is meaningful for places like Edinboro – places that have universities and strong school systems, places that have access to water (did someone say lakefront getaway?) – places that offer year-round opportunities for outdoor recreation, fresh air, and easy commutes to nearby metropolitan areas. Edinboro is fortunate to have these valuable assets and is demonstrating a commitment to leveraging these resources for an improved quality of life. This focused investment will put Edinboro in a position to not only capture some of this migrating population, but retain university graduates, and attract retirees with ties to the community or with a passion for active retired lifestyles across four distinct seasons.
Key Takeaways
The big takeaways from our community conversations, stakeholder interviews, and some research and background digging on the housing situation in Edinboro are these:
Edinboro needs affordable housing
There are more long-term rentals in Edinboro than owner-occupied homes
Short-term lodging is a growth opportunity
See More
In the midst of these growth opportunities for Edinboro lives a challenge. During months of community engagement – interviews, public surveys, visioning sessions – access to affordable housing was possibly the number one issue listed across all forums. To be clear, affordable housing doesn't always mean subsidized housing (though that's a necessary segment for the market) – it's housing that's available to people at a smaller percentage of their income. So really, we're talking about a healthy range of sizes, styles, price-points, and points of entry (i.e. renting vs owning).
A related challenge is represented in changes impacting the rental market – specifically student rentals. While these properties only make up 37% of the rental market, it's a market that's taken a beating in the past few years. Between changes at Edinboro University and, in the last year, changes set in motion by the pandemic, there's an opportunity for property owners to rethink their student rentals in response to either the affordability issue or the potential for short-term lodging.
Housing is always a challenge in rural communities because the cost to build outweighs the market price. So in exploring ways to introduce affordable housing to Edinboro, it's important to be bold and innovative and, if testing the water, to be incremental and intentional.
Demonstration Neighborhood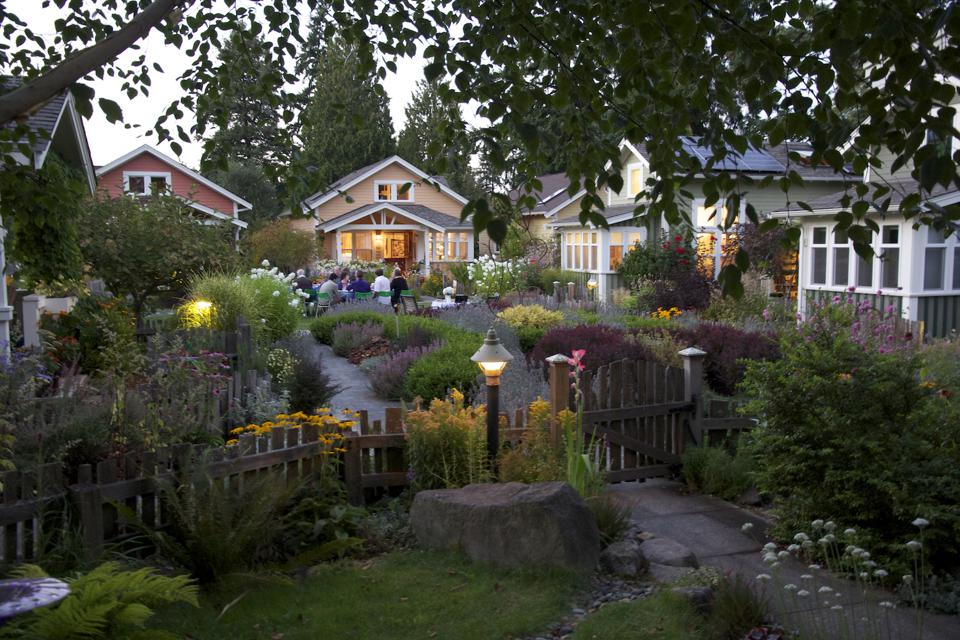 In the early 2000's the Edinboro University Foundation began researching housing models to accommodate aging populations. They settled on a concept that would serve empty-nesters and healthy retirees who want an active, amenity-rich lifestyle. A 2009 market research and feasibility study shows that the concept tested very well with both alumni and non-alumni groups.
Edinboro needs affordable single family housing.
And short-term rentals.
And long-term rentals.
And student rentals.